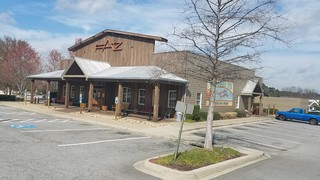 Location:
Lexington, SC
We are pleased to offer exclusively for sale this free standing Fatz Caf in Lexington South Carolina. The subject property is a 5,750+/- square foot Fatz Cafe restaurant located at East Main Street (Augusta Road, US-1). A highly visible location on East Main Street with traffic counts exceeding 26,000 VPD. Property is located with 2-miles of I-20 with highway signage that has over 64,000 VPD.
There are rent increase during the primary term and 8% increase every 5-years during the available four 5-year renewal options. The lease is absolute net, with tenant responsible for all taxes, insurance, maintenance including roof, structure and HVAC.
Caf Enterprises dba Fatz Cafe signed a new 15 Year NNN Lease commencing in 2003 and later changed it to a 20-year NNN lease. The Lease provides Landlord friendly rent increases of 8% every five (5) years. The NNN Lease structure provides an investor with a true management free investment opportunity.
Caf Enterprises, Inc. was formed in 1988, to serve as parent company to FATZ Caf and other restaurant concepts that would follow. The company set out to continue to build the success of FATZ Caf by focusing on the attributes that have contributed to the restaurant's popularity. Its quality, craveable food served in an environment that feels like home has allowed the concept to grow, and today, Caf Enterprises, Inc. owns and operates 45 FATZ Caf restaurants across Georgia, Tennessee, Virginia and the Carolinas. With a strong group of operating partners and a support team of seasoned professionals, the company is poised for continued growth in the Southeast and beyond.
Parent company of Cafe Enterprises is Milestone Partners that is a lower middle market private equity firm that specializes in making control equity investments in established operating businesses in a wide variety of industries with valuations of up to $150 million. Milestone Partners has been consistently focused on lower middle market private equity investing since 1995.
Â
Net Operating Income:
$162,713
942 East Main Street
Lexington, SC 29072
View Map
Total Square Footage:
5750
Property Type:
Single Tenant netleased
Broker Name:
Brannen Goddard
Net Leased NNN::
Triple Net (NNN)
Populations 5-miles:
80,191
Populations 10-mile:
256,757
Average Household Income:
$86,001
All information in this site is deemed reliable but is not guaranteed and is subject to change